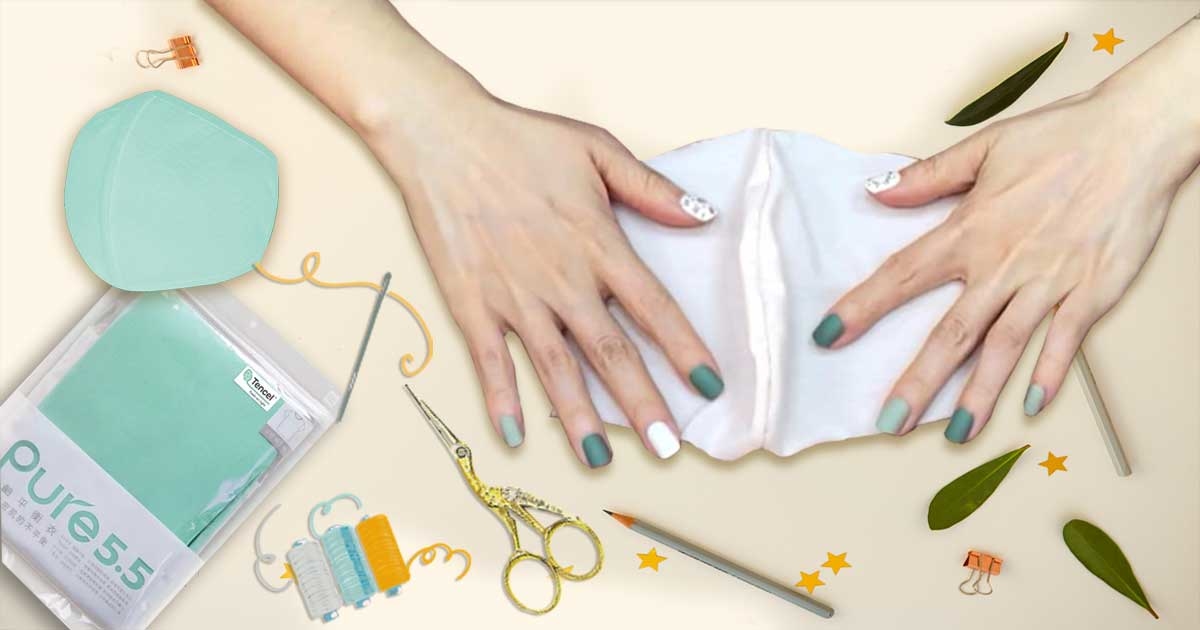 Your Peaches-and-Cream Skin Deserves a Breathable Treat with Pure55

😱 Does the shortage of face masks make you panic?
😫 How to stop the nightmare of scrambling for face masks in a long queue?
😷 Does long-wearing of face mask almost suffocate you?
Due to the outbreak of the coronavirus, face masks have become hot property. However, the cruel fact is Money Can't Buy you Masks during Tough times!
Why not turning to DIY solutions?
Face Mask Cover could be a method to Extend the Mask Life, also respond to the call of WHO – "Reserve face masks for coronavirus high-risk people, health workers".
Pure55 Moisturize and Purify your Face & Mind
The fabric of mask cover does matter because nobody likes the feeling of asphyxia. Pure55 pH Balancing Tops, aka "Your Weak Acid Body Mask", blended TENCEL™ fibers and Acrylate fibers into high-count yarns, perform the most smooth touch to the skin, fast moisture adjustment. You can be still elegant even when sweating so that you can pay all the attention to enjoy each moment.
What Makes Pure5.5 Mask Cover so Different?
✅ Keep your makeup long-staying
The weak acid feature keeps balancing the oil & moisture of your skin 24/7. Just like the oil blotting paper for your skin.
✅ For Sensitive Skin
Pure5.5 combines the features of 2 fibers—TENCEL™ Lyocell & the Japanese imported weak acid fiber, Acrylate, mix and blend into a single yarn. The Acrylate has a weak acid pH value which helps to balance the pH environment of the skin and maintains great cleanliness.
✅ Prevents Harmful Germs
The ideal skin pH is moderately acidic. Pure 5.5 provides an environment for healthy bacteria to grow.
✅ Easy Clean & Quick Dry
You do not necessarily have to use detergent to wash Pure5.5. Just make use of clean water and hang it to dry directly. After this, it usually takes less than 4-5 hours to get completely dry.
✅ Breathable
Pure5.5 uses Acrylate, a humidity regulatory material that allows for breathability. The pure-dry property is above standard for moisture-wicking clothing. You won't feel clammy and suffocated, even when wearing for extended periods of time.
✅ Most Smooth Touch
Pure5.5 contains botanic TENCEL™ fiber which is more delicate than 100% Cotton products. Treat your peaches-and-cream skin with the gentle touch of Pure5.5.
✅ No Fade & No Harm
Vibrant Colors with Grade 4 colorfastness prevents harmful dyes from damaging your skin.
✅ Super Stretchy
Flexible for any template. Either 3D or pleated medical mask.
Follow the Zero-Failure Video to Make Useful Face Mask Covers
🔎 Pure55 Tops Intro
http://bit.ly/3a5u31B
🛒 Shop for Pure55 Tops
http://bit.ly/2v7MjJa
|
🔎 Pure55 Underwear Intro
http://bit.ly/2Vp5EAe
🛒 Shop for Pure55 Undies
http://bit.ly/3c7wmmI
Download the Template for Free